Recipes White Sangria
Recipes White Sangria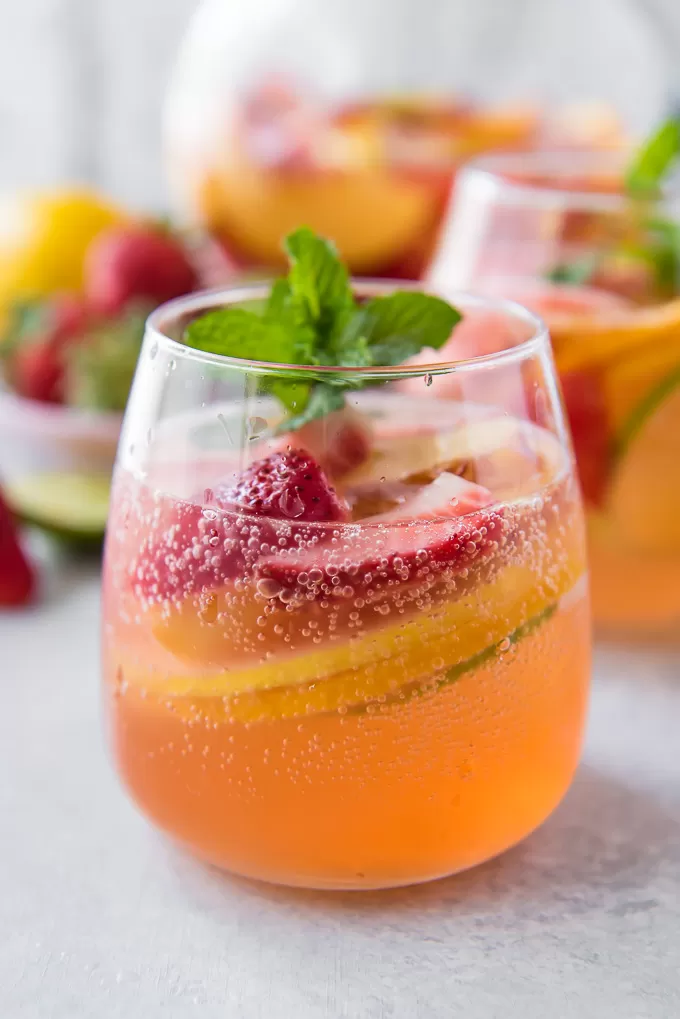 If I had to liken the seasons to cocktails…well, I would.
Summer would be a frozen Pina Colada and Margarita season, for sure.
Autumn is totally a Whiskey Sour time of year.
To combat the cold Winter days, it's all about Hot Toddies and Mulled Wine.
To me, Spring is all about fruity wine drinks that pair with brunch and fit in pitchers! Mimosas, Mojitos, and refreshing Sangrias like this White Sangria fit the bill!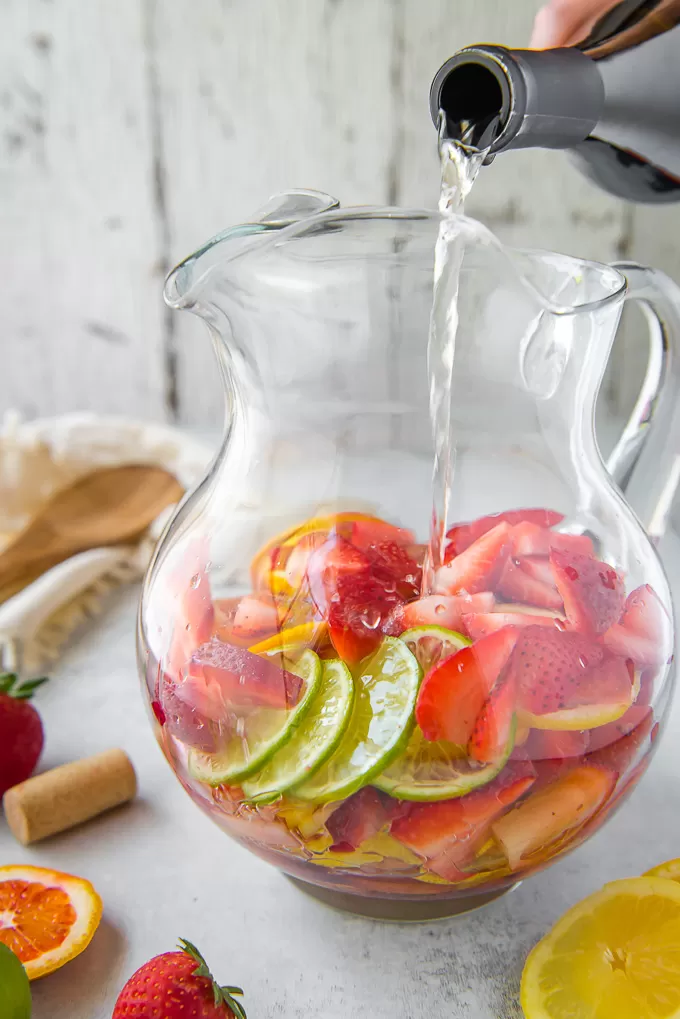 HOW TO MAKE WHITE SANGRIA
You'll find drinks like this White Sangria on just about any good restaurant menu. There's nothing quite like making up your own pitcher to enjoy by the pool or the shore! Especially since it only takes 15 minutes to make and you are totally free to hoard the entire pitcher for yourself. #NoJudgementZone
For those of you who prefer natural sweeteners, replace the sugar with maple syrup, honey, or agave. A coconut sugar-based simple syrup would also work, as well as stevia or monkfruit.
This White Sangria is perfect for Tapas or Mexican night! Try pairing it with your favorite Spanish-flavored dinners, or a great spread of Spanish tapas, including my Chorizo Albondigas.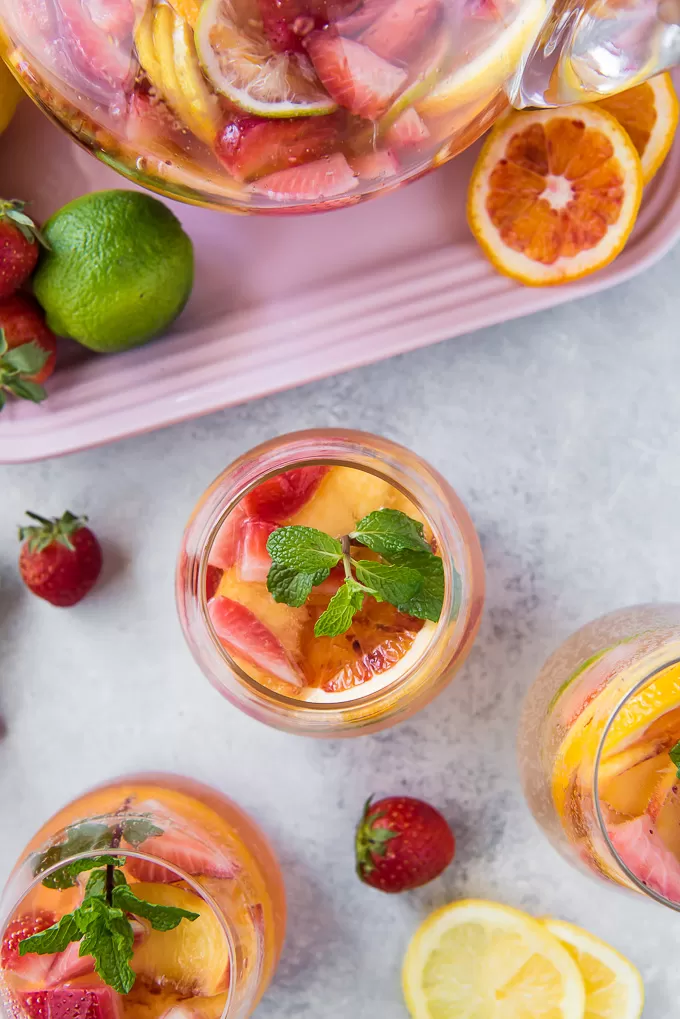 WHAT IS IN WHITE SANGRIA?
The thing about sangria is that it's completely customizable based on your tastes!
If you have an excess of mango or cherries, feel free to toss those in there!
This beautiful cocktail is adaptable to the seasons also, so even if it's the dead of winter, citrus + apples + pomegranate would make for a delish variety.
As for the fruit in this particular cocktail, I chose a mixture of end of winter and early spring fruit:
Peach

Strawberry

Blood Orange

Lemon

Lime
WHAT IS A GOOD WHITE WINE FOR SANGRIA?
The base of White Sangria is a combination of dry white wine (like a Sauvignon Blanc or Pinot Grigio), brandy, and a bit of sugar or simple syrup. Add some fruit and a top-off of Prosecco or sparkling water and you've got simple sangria!
Your wine shouldn't be the most expensive on the shelf, but not the boxed stuff, either. Choose a vint that you would drink on its own.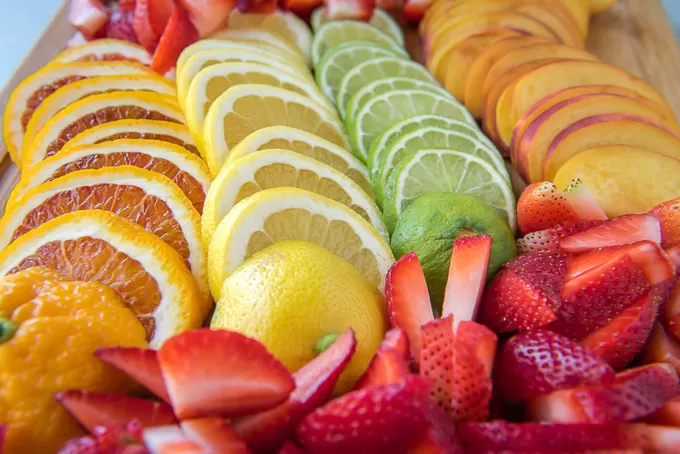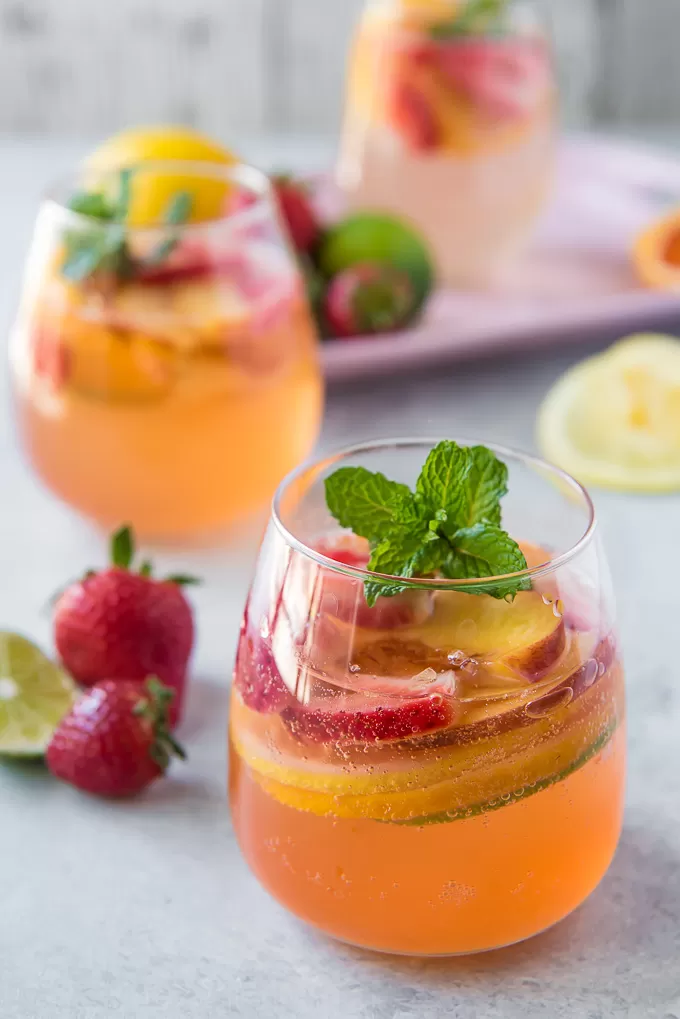 HOW TO MAKE WHITE SANGRIA
This is one of the easiest cocktails to make! The hardest part about it is waiting for the fruit to infuse into the wine!
First, thinly slice your fruit and place it in a large pitcher. Sprinkle the fruit with some granulated sugar, then pour in the brandy and white wine.

Then, stir everything up well, making sure the sugar is evenly distributed. Refrigerate for at least four hours for optimal flavor.

When you're ready to serve, portion the fruit into wine glasses. Fill each glass half to three-quarters of the way full with the sangria.

Finally, top each glass off with some Prosecco or hard seltzer water (if you like it strong), sparkling water (if you want less booze), or lemon-lime or ginger ale (if you prefer extra sweetness).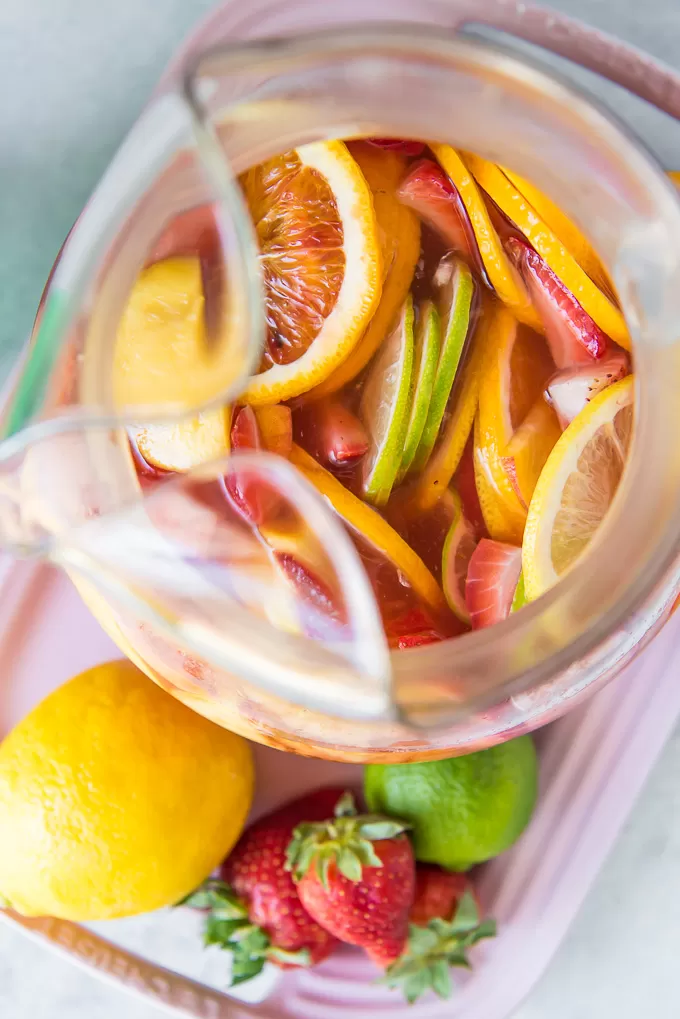 HOW LONG DOES SANGRIA LAST?
While a bottle of white or red wine will last up to a week once opened, Sangria should be finished or discarded within 3 days. The cut up fruit tends to spoil long before the wine does.
DO YOU HAVE TO KEEP SANGRIA REFRIGERATED?
This drink is best kept chilled in the fridge instead of sitting out. It tastes better, and the fruit tends to get mushy if kept in a warm spot for too long.
SHOULD YOU MAKE SANGRIA THE NIGHT BEFORE?
You need to let your pitcher sit for at least four hours to give the fruit to infuse the wine. This is a perfect make-ahead cocktail to save you from having to whip something up while your guests are arriving.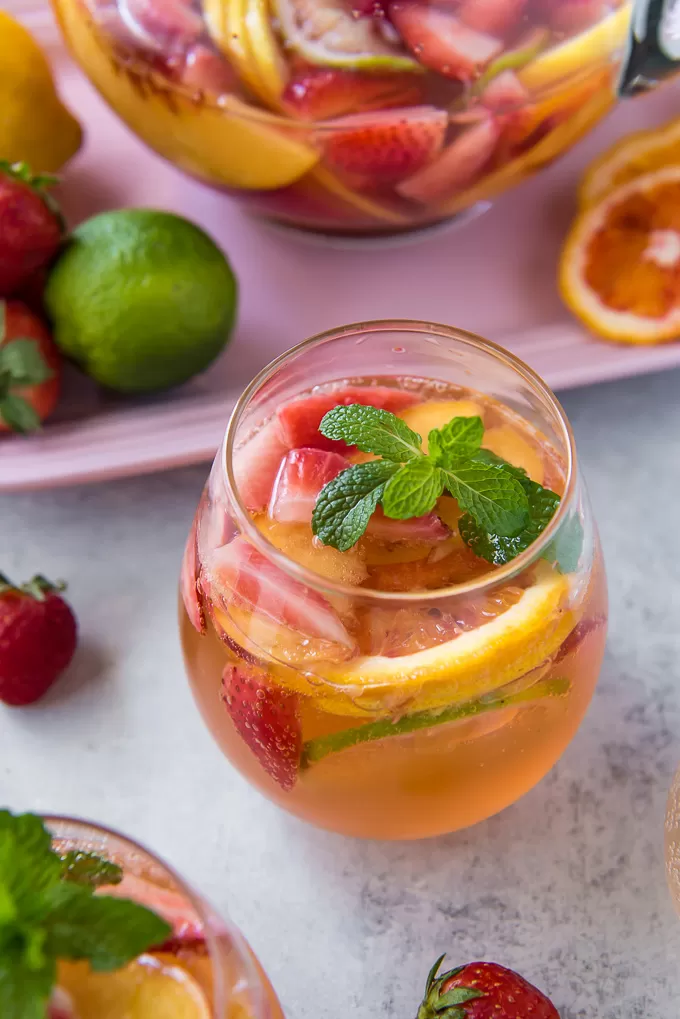 Try these other Sangria Cocktails!
Peach Sangria

Spring Moscato Sangria

Red, White & Rosé Sangria
Indulge your fruity cravings!
Pineapple Smoothie

Strawberry Lemonade Popsicles

Strawberry Banana Smoothie

Orange Creamsicle Poke Cake
This refreshing White Sangria is the perfect patio sipper for Spring! Citrus, peach, and strawberry slices are soaked in a blend of white wine and apple brandy, infusing it with their fruity flavors before being topped off with Prosecco, sparkling or hard seltzer water.
INGREDIENTS
750 ml (1 bottle) white wine Pinot Grigio or Sauvignon Blanc
1 1/2 cups strawberries halved
Prosecco or sparkling water or hard seltzer
INSTRUCTIONS
Combine wine, sugar, brandy, and fruit in a large pitcher. Stir well to combine. Refrigerate for up to 4 hours.
When ready to serve, spoon fruit from the pitcher into a wine glass. Fill 3/4 of the way with sangria, then top each glass off with Prosecco, sparkling water, or your favorite hard seltzer.
Calories: 347kcal | Carbohydrates: 37g | Protein: 1g | Sodium: 11mg | Potassium: 400mg | Fiber: 3g | Sugar: 28g | Vitamin A: 3.9% | Vitamin C: 85.9% | Calcium: 5.1% | Iron: 6%