Salmon Patties
These Salmon Patties (aka salmon cakes) are tender and flaky on the inside, golden and crispy on the outside. Made quick and easy with delicious canned salmon and fresh herbs, my salmon patty recipe will knock your socks off!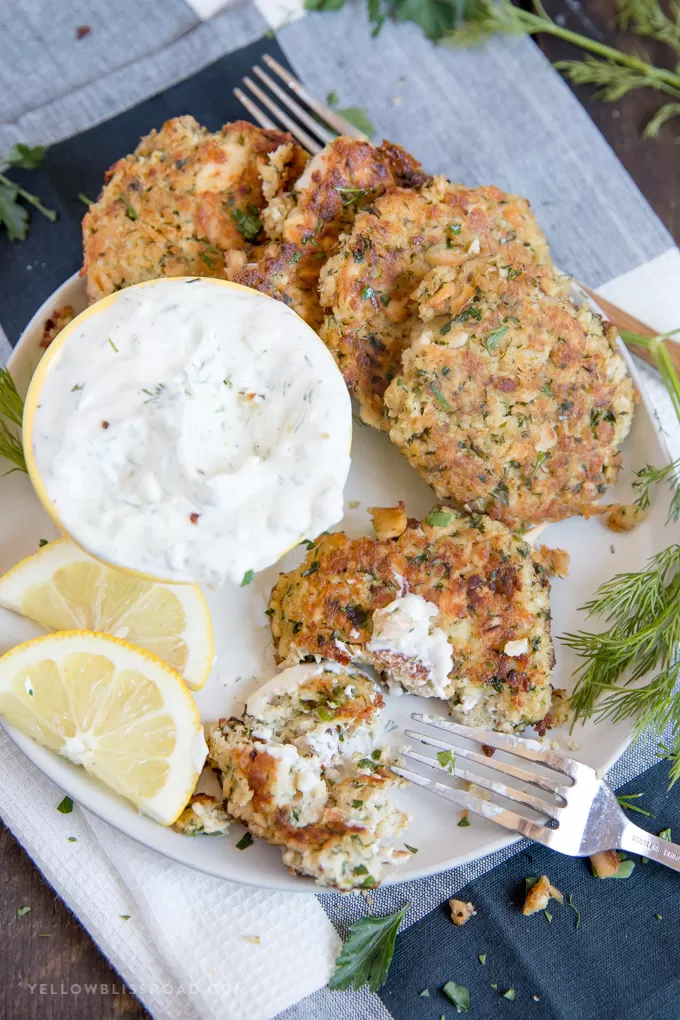 If you had asked me a few years back if I like salmon patties you probably would have gotten a deer in the headlights kind of look. That just didn't sound good to me, so it wasn't something I'd ever tried. I finally worked up the courage (silly, I know) to try them, and I was immediately hooked and knew I needed to figure out how to make salmon patties at home.
HOW TO MAKE SALMON PATTIES
This recipe is pretty straightforward, and is similar to the way I make my homemade meatballs. Salmon Patties are crazy easy to make, and require little effort, making them perfect for busy weeknights. Mix ingredients, form patties with your hands, then fry them up on the stove. The whole process takes about 20 minutes from start to finish.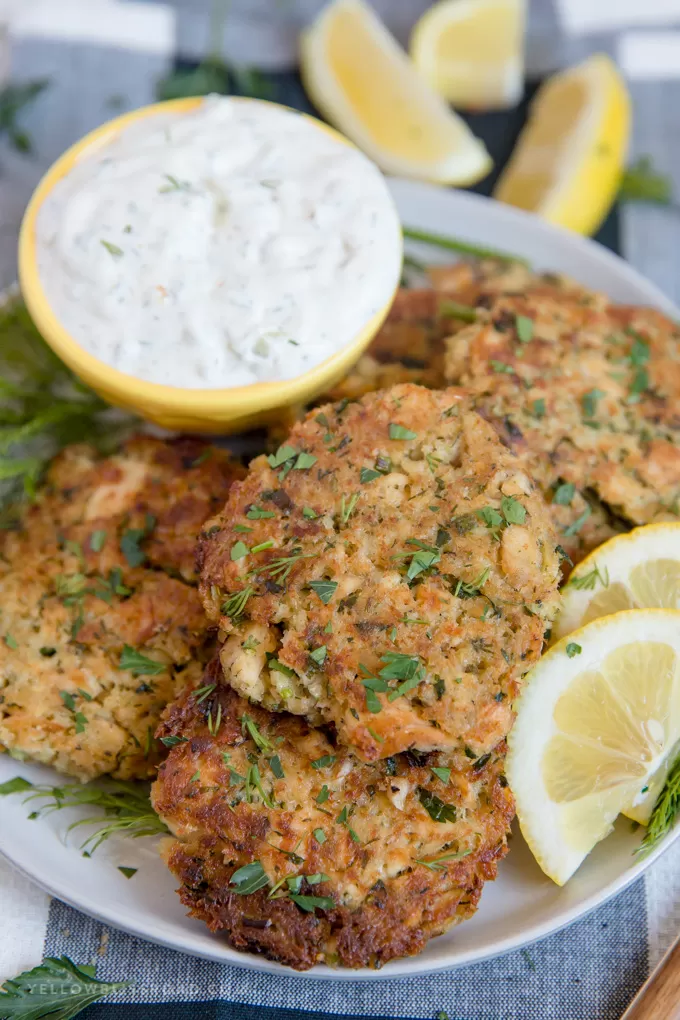 Start with canned salmon – I prefer to use the skinless and boneless kind, but as long as you get about 15 ounces, you can use any kind of canned salmon, or even fresh salmon that you bake in the oven.

Next you'll add fresh ingredients like dill, parsley, green onions and lemon, and some binders like breadcrumbs, egg and mayonnaise.

All of these things mix together and for a delicious blend of flavors that enhance the salmon patties. I prefer to mix the ingredients with my hands to get them really well combined, then use an ice cream scoop for portioning so each salmon patty is about the same size, and use my hands to form the patties.

Fry them up in a skillet until golden and serve with homemade tartar sauce and lemon wedges!
HOW LONG DO SALMON PATTIES TAKE TO COOK?
Salmon patties don't take long at all to cook – about 8 minutes! Melt some butter and oil in a skillet and fry the patties about 3-4 minutes per side or until they are nice and golden. Have a paper towel lined tray or plate ready to transfer them to, them serve them up with some fresh lemon wedges or tartar sauce.
IS SALMON OUT OF A CAN GOOD FOR YOU?
Fortunately, the canning process doesn't take away the nutrients in fish, so you'll get protein, heart healthy omega-3 fats and other nutrients from both fresh and canned sources of salmon. While there can be a slight difference in taste the ease of using canned fish in recipes like these salmon cakes or tuna pasta salad makes it a great option.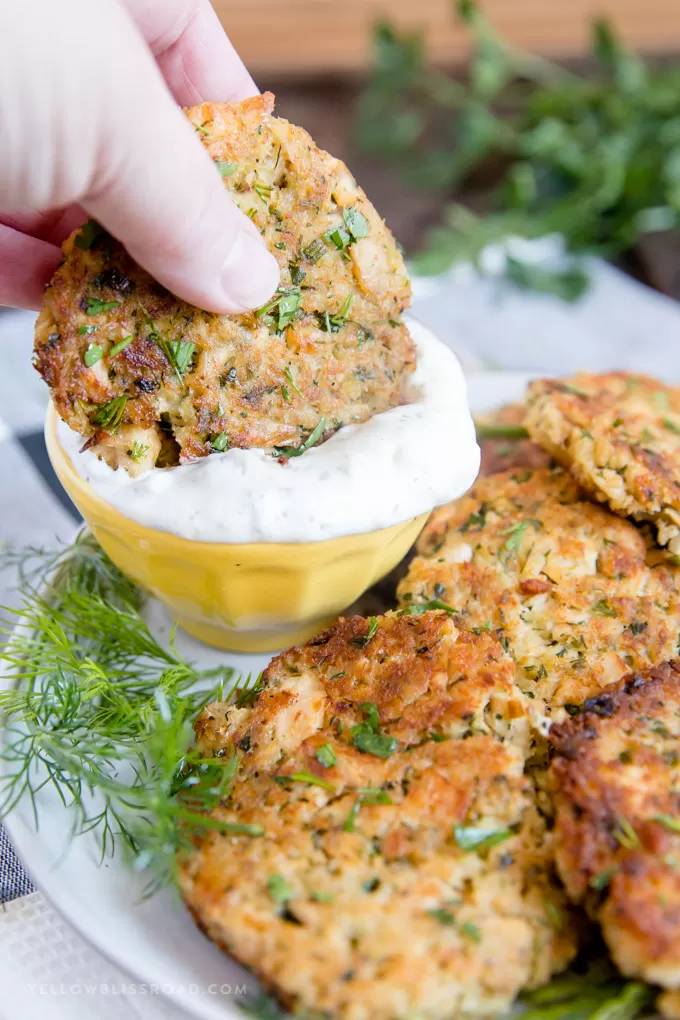 MY ENTIRE FAMILY RAVED ABOUT THESE SALMON CAKES FOR DAYS!
I served them with homemade tartar sauce, roasted potatoes and some steamed veggies, and I've since added them to our monthly dinner rotation.
They are so tender and flaky on the inside, golden on the outside and the flavor is out of this world. Give this salmon patty recipe a try and I bet your family will love them too!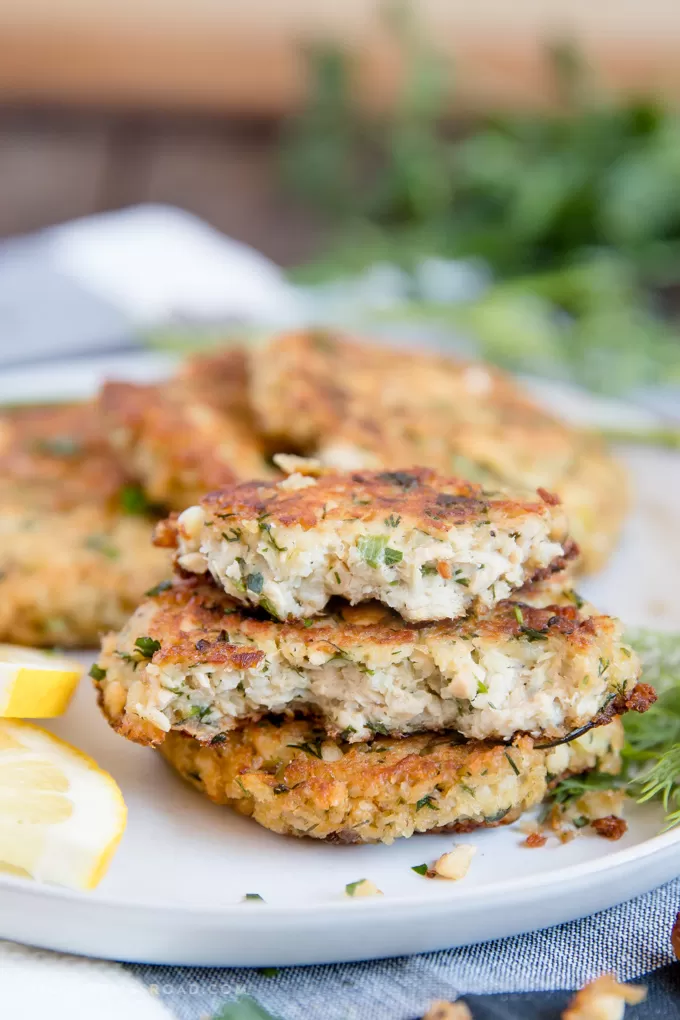 HERE ARE SOME MORE DELICIOUS SALMON RECIPES TO TRY!
Easy Baked Salmon with Honey Garlic Butter

Baked Teriyaki Salmon Lettuce Wraps

Crunchy Ramen Noodle Salad with Salmon
INGREDIENTS
3 5-ounce cans salmon skinless and boneless (aff)

2 green onions thinly sliced

1 tablespoon fresh dill chopped

1/4 cup minced fresh parsley

¾ cup panko breadcrumbs

1 egg lightly beaten

3 tablespoons mayonnaise

1 tablespoon lemon juice

1 teaspoon Worcestershire sauce aff

½ teaspoon Garlic salt

¼ teaspoon Black pepper

1 tablespoon Canola oil

1 tablespoon butter
INSTRUCTIONS
In a large mixing bowl, combine all ingredients except oil and butter. Stir to combine and then with your hands, form patties. Use an ice cream scoop (aff) for easy portioning. Flatten them into ½" patties. (Should make about 8-10 patties)
Heat the butter and oil in a large skillet over medium-medium low heat. Add some of the patties to the hot skillet (don't crowd the pan - you want at least an inch between patties). It it seems like the patties are browning too quickly, reduce the heat. Cook 3-4 minutes per side, or until golden and crispy on both sides. Transfer to a paper towel lined plate to drain. Repeat until all patties are cooked through.
Serve with homemade tartar sauce and lemon wedges on the side.
If mixture is too moist to hold the patty shape, add more bread crumbs and if it is too dry, add an extra Tablespoon of mayo.
Serving: 2patties | Calories: 373kcal